Updates from week of October 5, 2018
To Our Loyal Followers,
We hope you are doing well and getting excited for the "apple-picking" and Halloween festivities in October. We are busy preparing for the next two months of workshops and shows with our Girl Scout and Educator Partners. We are producing close to twenty Workshops before the end of the year, and we are very excited to meet our first time attendees and welcome back our return and loyal Scout Leaders and Educators. For your reference, please see the updates below on our Fall Build-A-Group Events, our 18th Annual Wicked "For Good" Day on Broadway 2019 Event, Spring 2019 Build-A-Group Events, Private MasterClasses and other new and innovative workshops on the horizon.
Throughout September, we received a large number of calls from Educators, Girl Scout Troop Leaders and Group Leaders still reserving for Fall 2018 as well as Winter/Spring 2019 dates in order to keep their costs down as much as possible. Our Fall "Build A Group" Events are coming up very quickly with the popular "Career Day on Broadway" on Saturday December 1, 2018 already reserved. We are also filling up quickly for our line-up below of Broadway's Best Shows and Workshops. Please place your order soon to get best availability and avoid being disappointed. Private MasterClasses and Broadway Show Tickets are available on any date of your choice as long as you meet the required minimum of twenty participants or more, including chaperones. Our programs are designed for all ages and everyone is educated and entertained during our In-Studio Programs.
We are also very pleased to announce our Premiere "Professional Development Workshop" for Educators, Troop Leaders and Parents on Saturday December 8, 2018. This Workshop is designed for adults to build their confidence, increase their skills in communication and develop new team-building skills. We previously produced this Workshop with a large international marketing team to help increase their overall productivity, creativity and salesmanship. This Workshop is being offered for the first-time to Educators and Leaders who we feel will benefit greatly from this experience in all areas of their careers and lives. Please see the Flyer below for event details and call for more information on how to reserve. Spaces are limited to ensure personal attention and the best experience possible.
We have reserved over 1,200 tickets for our 18th Annual Wicked "For Good" Day on Broadway Saturday February 9, 2019 for Girl Scouts, Families and Friends of all ages 8 – 80. We strongly encourage you to register directly now for StudentsLive Wicked "For Good" Day on Broadway Saturday February 9, 2019 as there are only FIVE WEEKS LEFT to BOOK, limited seats and in order to get the best seats available, as seating is "first come first serve" based on your order date. As a reminder, we had over 1,400 attendees last year and every year seats sell out faster and this program gets more exciting. The Wicked themes of "acceptance", "not judging a book by its cover", "reimagining a classic story" and "the power of friendship" that connect to Girl Scouts and Students across the country are resonating even for Life-Long-Learners of all ages. StudentsLive is proud to be a partner with the producers of Wicked on these exclusive and customized Girl Scout Educational Experiences since 2009.
As we noted, we are excited to be taking reservations for our new "Wicked Weekend Extravaganza Workshop Experiences". Please see details on the Two Optional Additional Weekend Workshop Experiences Exclusively Designed for Wicked "For Good" Event Attendees on the flyer here.
We have a newly redesigned Facebook page for StudentsLive (https://www.facebook.com/SLBroadwayEducationCompany). We have outlined our services more specifically and added more videos to show the process of our In-Studio Workshops. Please share this information with your friends and colleagues and let us know what you think about the new design. We will continue to post pictures from your individual Workshops so that all of our loyal followers can see what a great job your students and Scouts will do with our Broadway Teaching Artists. We also have new Instagrams: PassporttoBroadwayWorldwide and Studentslive_BEP for the most up to date information as well as our Twitters: @StudentsLiveBEP and  @PassportToBway. As always, feel free to use our websites at www.studentslive.net and www.passporttobroadway.com as a resource for more detailed information on any of our events or programs.
As a reminder, you can now book our 2019 "Build A Group Series" (see below) or we can reserve your Workshop and Show experience on the date of your choice if you meet the minimum requirements. If your order is placed and confirmed by December 3, 2018 for a 2019 Workshop, StudentsLive will honor the 2018 Workshop costs. Our costs go up on a yearly basis due to increased expenses but we are happy to lock in our 2018 rate for our valued new and return clients. We always suggest that you book in advance to get the best Seats, Studios and Artists available.
As we announced last month, our sister company Passport to Broadway is partnering with City University of New York Brooklyn College to produce a Musical Theater Intensive from January 14 – 18, 2019 at their Brooklyn College Facility. This will be a non-credit course for a five day program at a lower than normal  tuition as we are able to keep our costs lower due to funding and resources provided by Brooklyn College and CUNY. This program will be a part of the Brooklyn College Prep Center programing for extra-curricular activities. Their programming is generally targeted for High School Students; however, they have asked us to create this customized and exclusive Musical Theater Intensive Curriculum for BA/BFA/MA/MFA students who do not already receive this type of outstanding Musical Theater Coursework at CUNY or at other Universities. Please see the Brooklyn College Prep Center website here (www.BCPrepCenter.org) for more details. We will be posting a Flyer to our website and social media next week.
As we recently announced, Passport to Broadway is proud to share that we recently completed a documentary produced by NYU student videographer Sean Velasco-Dodge, about the Indonesian Pageant Students who travelled to New York in July 2018 to take part in our Broadway Musical Theater Intensive. The documentary will be posted next week on our website at www.passporttobroadway.com. We are excited to hear your feedback. Stay tuned about our plans to extend this program in Indonesia in 2019.
As we previously shared, our Passport to Broadway International Creative Team enjoyed a wonderful Musical Theater Intensive for our Premiere Program in Shanghai. The students included a wide range of ages from 15 to 40 and nationalities from Budapest, Hungary to Shanghai, China to the U.S. The students were passionate, engaged and showed so much growth from Day One to the Final Performance. Our team created the original show developed exclusively for Shanghai including 25 Broadway Show Numbers uniquely arranged to tell a locally relevant story during our 5-Day Musical Theater Intensive. Some of the new partners who attended the Final Showcase included theater faculty from local area schools as well as social and cultural leaders and VIPs from Shanghai. As stated previously, we are pleased to announce that we have begun promotion for our return to Shanghai in Spring and Fall 2019. We are producing Two Seven Day Sessions on March 30 – April 5, 2019 and September 28 – October 4, 2019. For more details about the 2019 programs, please visit the blog at http://034ad2b.netsolhost.com/wordpress1/2018/08/31/passport-to-broadway-shanghai-2019/, view the flyer below the Event Listings in this email or access those details on our website at www.passporttobroadway.com.
If you would like to bring our Passport to Broadway Musical Theater Intensives to your local school or Council, please contact us to setup a call and we will be happy to discuss how this Award-Winning Program that is touring around the world can partner with your Students or Scouts.
Featured News and Updates from September 2018
Our staff was invited to see Pretty Woman on Broadway last week. They greatly enjoyed the show, raved about the vocal power and range of all the lead actors and shared that anyone who loves the movie will not be disappointed.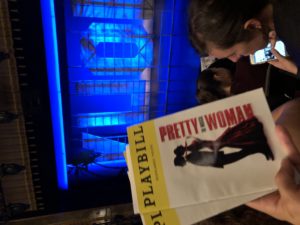 Our Artistic Director Amy and Associate Naratama from Voice of America Indonesia attended a sneak peek of the amazing technology behind King Kong on Broadway. King Kong, the world's most epic modern myth comes alive on Broadway through an innovative mix of robotics, puppetry, music and stagecraft.